Aesop Expanding Canadian Store Operations with Multiple Storefronts Over 12 Months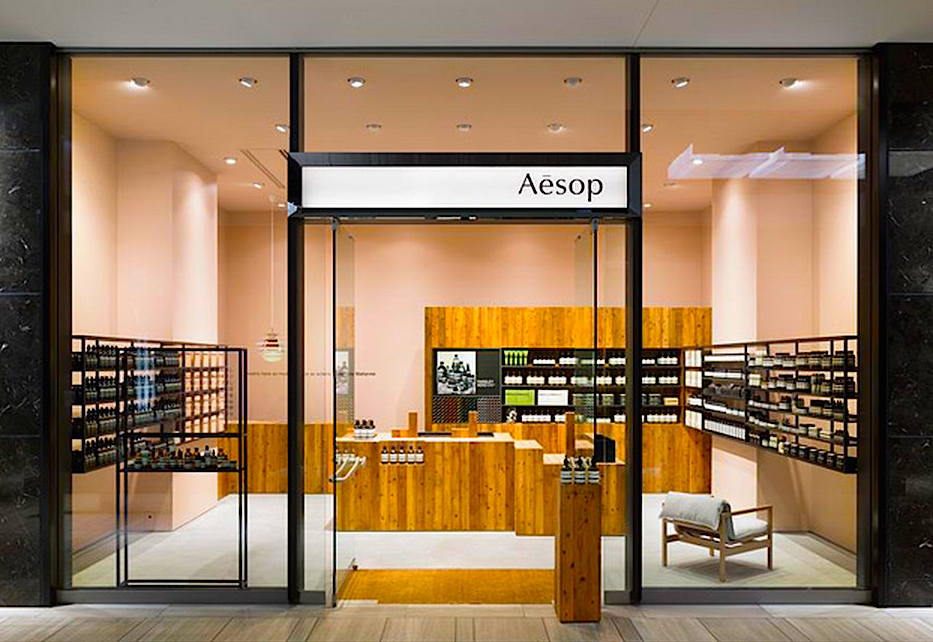 By Craig Patterson
Upscale Australian skin care brand Aesop is continuing with its standalone store expansion in Canada this year with multiple locations in two major markets. The new stores will join the 12 other Canadian standalone locations that have opened since 2015, as well as concessions and stockists in multi-brand retailers.
One Toronto storefront, spanning about 780 square feet, will open following pandemic lockdowns at the Yorkdale Shopping Centre. An aluminium tile façade is said to have been inspired by the work of Canadian-born abstract expressionist painter Agnes Martin. A mill-finish aluminium structure over the entrance will be left bare to reduce overall waste said the company. Shelves and cabinets will be clad in a thin layer of locally sourced Canadian bird's eye maple, contrasting the warmth of wood with a cool metallic sheen. A subdued matte floor will contrast will other elements.
The Yorkdale boutique is located in an up-and-coming luxury wing in the centre anchored at the north end by a recently-opened Louis Vuitton store. Other new nearby luxury retailers include Thom Browne and Golden Goose, with more luxury brands set to join them including a European brand by a Belgian designer that is said to be in lease negotiations.
Plans were in place in 2015 for Aesop to potentially open a storefront in the Nordstrom anchored wing at Yorkdale that opened in the fall of 2016, though a deal was never concluded.
In December, Aesop completed a new storefront in affluent midtown Toronto at 2579 Yonge Street — the physical store has yet to open to the public due to pandemic lockdowns which could possibly be lifted on March 8. The store features seven staggered cabinets simulating an internal streetscape of walnut joinery and reflective brass panels. A terracotta basin offers an opportunity to explore products first-hand. The pre-existing herringbone floor in the space was stained to harmonize with the walnut timber shelves — a WANT Apothecary storefront formerly occupied the space. The location is about a block south of the Sporting Life flagship on Yonge Street near wealthy neighbourhoods including Lawrence Park.
In Toronto as well, Aesop recently leased a 980-square-foot street front store at 94 Cumberland Street in Toronto's Bloor-Yorkville area. Aesop's doorway will face onto Bellair Street next to a corner Tokyo Smoke storefront, both at the base of the recently completed Minto Yorkville Park condominium tower. Aesop will feature 18-foot ceilings and a listing on Loopnet indicated that length of a lease at 94 Cumberland, owned by Prowinko, were for five years terms.
Hilary Kellar-Parsons of Aurora Realty Consultants negotiated all three Toronto leases. CBRE's Downtown Toronto Urban Retail Team, represented Prowinko at 94 Cumberland, acting on behalf of the landlord for this location. The 94 Cumberland Street podium is now 100% leased according to CBRE's Arlin Markowitz after a third retail space was leased earlier this week.
Two Vancouver-area storefronts for Aesop are said to be under negotiation with more details to follow. Mario Negris and Martin Moriarty of CBRE Vancouver's Urban Properties Group are a point of contact.