Ermenegildo Zegna Opens Impressive Mink Mile Flagship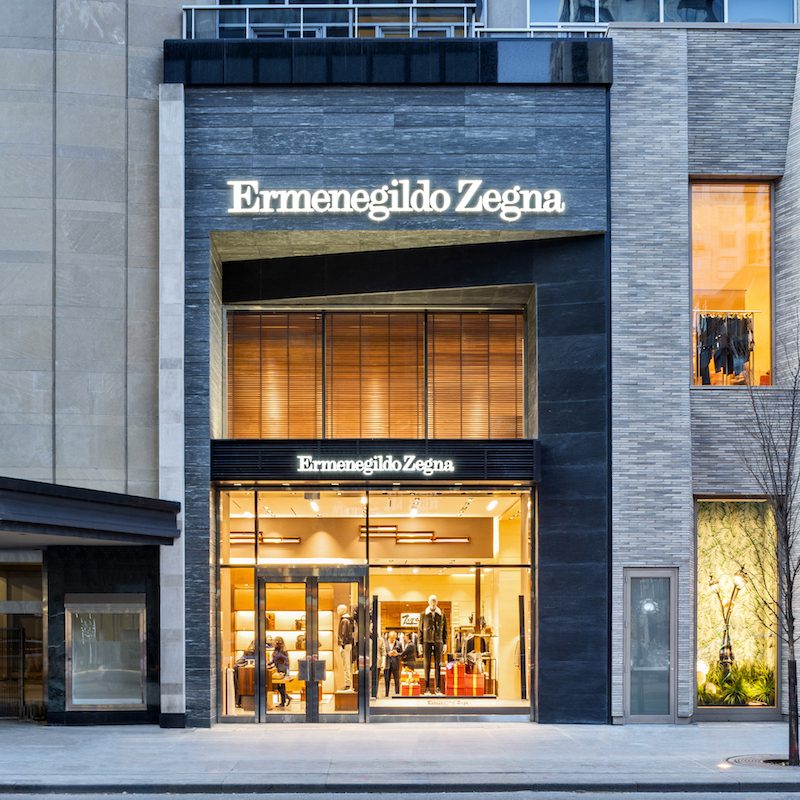 Italian luxury brand Ermenegildo Zegna is expanding its Canadian operations significantly this year. After opening a renovated standalone store at CF Pacific Centre in Vancouver last month, it has opened a standalone store at 100 Bloor Street West in Toronto, next to Hermès' flagship. More standalone stores could be on the way in a unique partnership with menswear retailer Harry Rosen.
"Our appreciation of Harry Rosen and its strong retail heritage goes back almost four decades," said Ermenegildo Zegna, CEO of the Group. "We are very fortunate to have a partner whose vision and business approach mirrors our own, and I am proud of being able to take our collaboration to the next level as we expand our presence within Canada."
The interior features high-quality materials such as wood and stone, creating a luxurious feel to the space, and it includes a dedicated made-to-measure area to accommodate private appointments. Collections carried in the new store include Ermenegildo Zegna mainline as well as some pieces from the Z Zegna collection, as well as an assortment of footwear and accessories, including items made from Zegna's Pelle Tessuta, which is a light and tactile fabric made from nappa leather that is woven like yarn.
The new Bloor Street flagship also carries the pricey Ermenegildo Zegna Couture collection (some pieces are marked by a signature 'XXX') with pieces that can be priced well into the thousands of dollars.
Zegna occupies an eastern portion of a retail space formerly occupied by Pottery Barn, which was part of the 100 Bloor complex which includes the facade of the former University Theatre (characterized by an undulating cut-marble base, cantilevered canopies, and two-story granite framed windows). CBRE Toronto negotiated the Toronto Zegna deal under the direction of Arlin Markowitz.
Harry Rosen has had a partnership with Zegna brand for decades and the boutique expansion is a natural progression, according to Harry Rosen CEO Larry Rosen.
"We take great pride in our longstanding relationship with the Ermenegildo Zegna Group, and admire its profound commitment to craftsmanship, luxury and social responsibility," explains Larry Rosen, CEO, Harry Rosen Inc. "Our families have been in business together since the 1970s and after all these years, we continue to share many of the same values. It's an honour to work with Zegna and we look forward to celebrating the success of these new openings."
Harry Rosen's 55,000 square foot multi-level flagship, located at the northeast corner of Bloor Street West and Bellair Street, is about 180 feet east of the new Zegna boutique. Harry Rosen's second-level includes a roster of some of the world's top luxury brands for men, including an impressive Zegna shop-in-store that continues to operate, which was the first in the world to feature Zegna's updated design. The Harry Rosen shop-in-store offers "the Harry Rosen experience" which includes its exceptional customer service.
Zegna is the top selling brand in the Harry Rosen chain, which boasts eight Zegna shop-in-shops across the country, as well as the two standalone flagships
The standalone flagships are intended to attract brand fans seeking the "pure" Zegna experience and the brand is seeking to operate standalone stores in the world's major cities — there are plenty of Zegna fans and the brand is considered to be one of the world's leading luxury labels for men.
Photo by Retail Insider