Health, wellness firms moving into street-front retail sites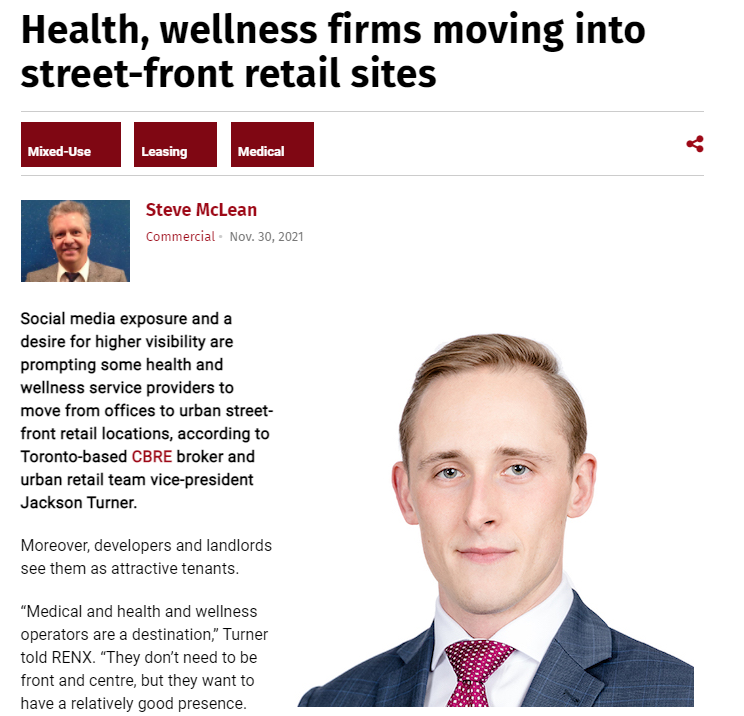 Social media exposure and a desire for higher visibility are prompting some health and wellness service providers to move from offices to urban street-front retail locations, according to Toronto-based CBRE broker and urban retail team vice-president Jackson Turner.
Moreover, developers and landlords see them as attractive tenants.
"Medical and health and wellness operators are a destination," Turner told RENX. "They don't need to be front and centre, but they want to have a relatively good presence.
"People will seek them out and institutional landlords are becoming more open to these uses because they drive traffic to their centres, whether it's in the bottom of an office building or at the base of a condo building."
These health and wellness locations can also draw people to businesses in the same building or nearby, which large building owners see as another plus.
"Social media followings are luring institutional groups that have traditionally been covenant-driven," said Turner. "Especially today, with the question marks around office and how long it's going to take to get people back in, I think offering great amenities at the base of your building and offering great amenities in the surrounding areas, if you own a portfolio of buildings, will be a benefit."
View the full article here: https://renx.ca/health-wellness-biz-moving-into-street-front-retail-sites/