Hermes Hosting Unique 'Carre Club' Scarf Pop-Up Sept. 28-30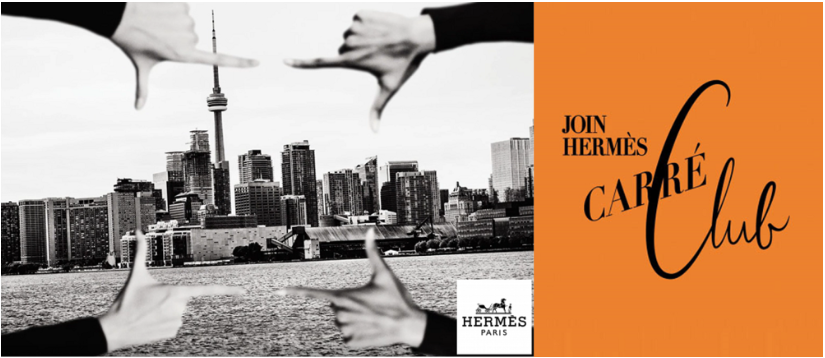 French luxury brand Hermès is hosting one of the more interesting pop-up activations we've seen this year on Toronto's Mink Mile. We attended a preview and were able to take photos and videos for this article. The 'Hermès Carré Club' is being hosted at 151 Bloor Street West on Friday, September 28 through to September 30 from 11:00am to 7:00pm daily. Admission is free.
Hermès describes the pop-up as being an "immersive experience that will exhilarate your senses" that celebrates the brand's iconic silk scarves. Guests are welcomed at the doors where they pass by the 'Click and Check Concierge', in an elongated space that includes several unique activations.
At the 'Carré Studio', scarf designers hand-paint scarves for the public to view — a simple design is brought to light with vibrant colours and patterns. The Carrémania showcases the Hermès Carré Club capsule collection with limited edition scarves available for purchase. There's also the 'Carré Café' offering coffee on site, which is free to the public all weekend as well.
The Hermès Carré pop-up is worth checking out if you're in Toronto's Yorkville area this weekend and in some respects, it is a reflection of what the future of physical retail might look like. The company is creating an engaging experience for fans of Hermès, which creates top-of-mind awareness while maintaining relevance for the brand. Some retail experts predict that the future of brick-and-mortar retail may include branded 'experience centres' that engage the consumer rather than simply sell product, with e-commerce being part of the overall unified sales channel.
Hermès' gorgeous Bloor Street flagship, which opened in November of 2017, is just up the street from the Hermès Carré pop-up. The two-level space at 100 Bloor Street West features an impressive interior with high ceilings, ample light, and a vast display of Hermès product ranging from fashions to home goods.
In Canada, Hermès also operates stores in Vancouver, Calgary and Montreal. The Vancouver store is currently located at 755 Burrard Street, and it will be replaced by next year with a large two-level flagship at the southwest corner of Burrard Street and West Georgia Street. Hermès also operates concessions at Holt Renfrew in downtown Calgary and in Montreal, with the Montreal unit set to relocate to the Ogilvy building to coincide with the highly anticipated Holt Renfrew Ogilvy merger which will be complete by the end of this decade.
*Editor's note: Arlin Markowitz, Senior Vice President at CBRE's Urban Retail Team in Toronto, represented landlord Slate Asset Management as listing agent and also as advisor to Hermès in the short-term lease deal. Mr. Markowitz also coordinated a short-term deal with BMW for a pop-up that will be revealed soon, and the retail space at 151 Bloor Street West is also available on a long term basis — [151 Bloor St. W. Flyer]
Photo by Retail Insider