Valentino Unveils 1st Canadian Flagship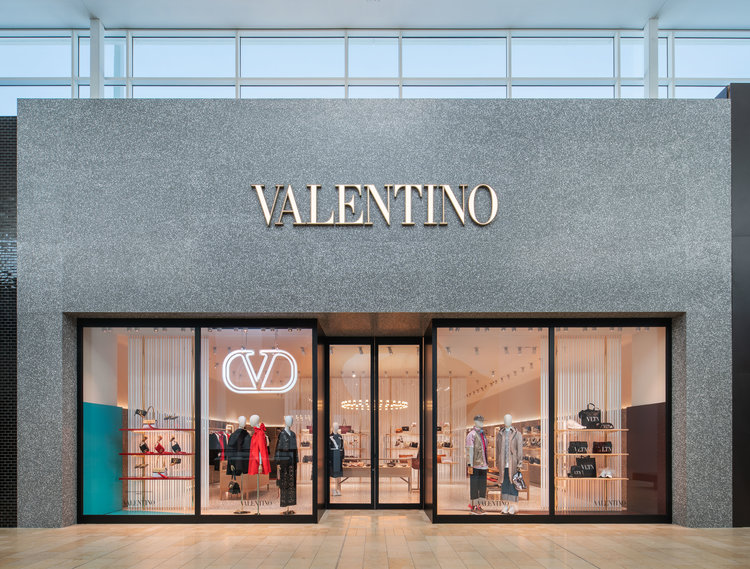 By Craig Patterson of Retail Insider
Italian luxury brand Valentino has officially opened its first standalone Canadian flagship at Toronto's Yorkdale Shopping Centre. The impressive storefront is the latest international brand to enter Canada through Yorkdale, as Valentino expands its presence in Canada amid considerable popularity.
Located across from an expanding Holt Renfrew store at Yorkdale, the new Valentino boutique spans more than 4,600 square feet on one level. The store is wedged between Canada's first Bottega Veneta flagship, which opened last fall, and Aritzia-owned Wilfred.
All womenswear and menswear product categories for the Valentino brand are featured in the beautiful space, including ready-to-wear, accessories, leather goods, footwear and fragrances.
The store is divided into sections — at the front of the boutique is an area for bags and other accessories. Towards the middle is a shop-in-store area for women's footwear, with men's footwear displayed nearby. Men's and women's ready-to-wear fashions are separated into their own departments within the new store as well. Prices run well into the thousands, catering to wealthy shoppers that continue to descend on the shopping centre which a recent Retail Council of Canada study identified as being the most productive in Canada in terms of annual sales per square foot.
The Yorkdale flagship reflects Valentino's latest store design which was first unveiled in a flagship in Milan in 2012, which features ample use of grey Palladiana Terrazzo on walls and flooring throughout the space, which has become a trademark for the brand. That contrasts with oak shelving and fixtures accented with glass, as well as plush carpeting and velvet furniture offering a comfortable place to relax. LED lighting illuminates shelves in the store, and overhead, circular lighting fixtures brighten the space.
The store was designed by Valentiono's Creative Director Pierpaolo Piccioli, in collaboration with David Chipperfield Architects. Toronto-based DKstudio was architect of record, and Atmosphere Design Group PLLC executed the drawings.
CBRE represented Valentino under the direction of Senior Vice President Arlin Markowitz of the Toronto Urban Retail Team, as well as Andrew Goldberg, Vice Chairman of CBRE in New York City. Oxford Properties Group is the landlord of Yorkdale Shopping Centre.
'The Lyst Index' recently ranked Valentino as the ninth hottest brand in the world, and the brand has been expanding its base of stores rapidly for the past several years. Valentino operates 19 storefronts in the United States and nearly 200 worldwide, with more on the way. Some Valentino units can be quite large — a San Francisco flagship, for example, spans about 10,000 square feet, and the New York City flagship on Fifth Avenue is about twice that size.
Valentino is also available in Canada at several of Canada's most exclusive retailers, some of which have 'hard shops' dedicated to the brand. Valentino has been growing its Canadian distribution steadily over the past four years. In September of 2015, Nordstrom unveiled separate shop-in-store boutiques at CF Pacific Centre in Vancouver for Valentino accessories and women's fashions, which was followed by a dedicated Valentino men's area, which was a first for Nordstrom. In February of 2016, Saks Fifth Avenue opened its CF Toronto Eaton Centre flagship, which also featured separate shop-in-stores for Valentino accessories and women's ready-to-wear. In the fall of 2016, when Nordstrom opened its Yorkdale store, it also included separate Valentino shop-in-stores for accessories and women's ready-to-wear. Most recently, Valentino unveiled a new accessories boutique at Holt Renfrew in Vancouver.