You've Seen His Name on Buildings Throughout Toronto. But Who is Arlin Markowitz?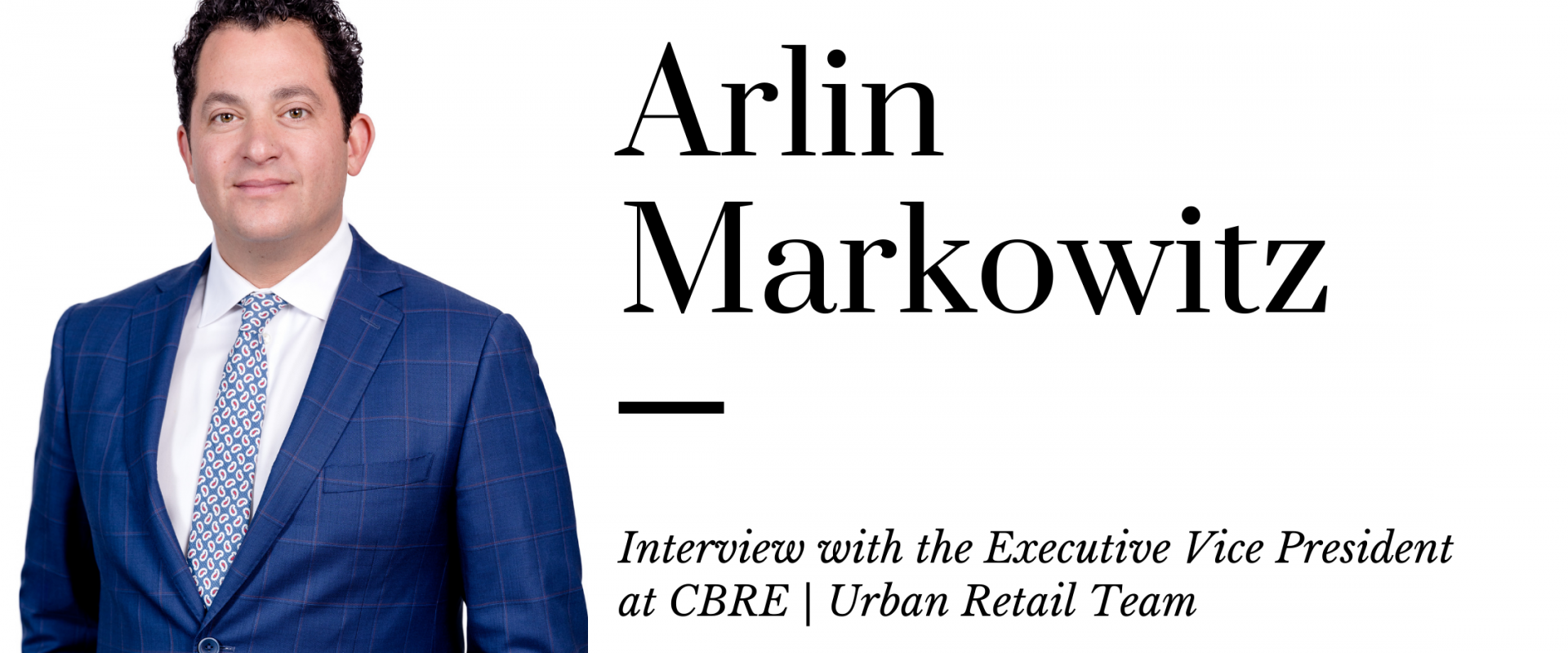 You've Seen His Name on Buildings Throughout Toronto. But Who is Arlin Markowitz?
By: Sean Terry
If you've spent a day in Toronto, it's more than likely that you've seen his name. Dominating the city's urban retail real estate market, it appears on just about three quarters of the 'For Lease' and 'For Sale' signs that pop up on vacant storefronts throughout the '416' and is the name behind the successful brokering of many of Toronto's more exciting and lucrative deals. It's a name that's held in high regard within the realms of both commercial leasing and retail alike and is often attached to and credited for some of the most amazing streetfront transformations that the city has ever seen. But who is Arlin Markowitz – the man behind the name – and what makes him so damn good at what he does?
"Before I got into brokerage, I grew up in my family's shoe business – David's Footwear," he explains. "I spent most of my childhood, including weekends, summers, holidays, and every other minute that I wasn't in school, within the retail industry, working at the shoe store as a shoe salesman. Because of this, the vast majority of the time, I was working at the corner of Bay and Bloor in Yorkville, one of the most exciting and fast-paced retail presences in the city. During that time, I developed a thorough understanding of the neighbourhood and of the commercial activity that took place there. So, when I decided, for a plethora of reasons, that the retail business wasn't for me and that I wanted to get into real estate, it was obvious that I should focus on what I knew best, which was retail in the Bloor-Yorkville node."
Sharp rise to success
 
Receiving this type of unconventional education, he says, particularly as it pertains to the luxury side of retail, allowed him to amass a knowledge and acumen for his profession that could not be learned anywhere else. It also enabled him to hit the ground running when he started at Cushman & Wakefield in 2007 where he became one of the global commercial real estate giants' top brokers before eventually assuming the role of Vice President. Following eight successful years with the company, Markowitz moved on to join commercial real estate services and investments firm CBRE, where he currently serves as Executive Vice President, leading the Urban Retail Team which he founded when joining in March of 2015.
Today, he is widely recognized as Toronto's foremost urban retail specialist and advisor, and has been responsible for introducing a host of international brands to the Canadian market, representing both tenants and landlords to facilitate the placement of prestigious brands including Hermès, Salvatore Ferragamo, Zegna, Equinox, Valentino, MCM, COS, Brooks Brothers and Lululemon in some of the country's most coveted addresses. In addition, he's also personally executed over three quarters of a billion dollars worth of investment sales in the city. So, the question begs to be asked: how can one man be responsible for such an impressive portfolio of deals?
"I don't think that there's any kind of secret behind my success as a broker," he admits. "It's really just about work ethic and sacrifice. I don't think I'm smarter than the next person doing this. I just think I work harder and longer hours. When my competitors are taking a Thursday afternoon off in the summer to play golf or go to the cottage, I'm still sitting in my office. When they extend their Christmas holidays into two-and-a-half or three weeks, I'm taking six nights and then rushing back to my work. I'm regularly working from seven in the morning to seven in the evening, come home to have dinner with my wife and put my kids to bed, and then I'm in my home office at nine and will stay there, working, until just before midnight. It's about putting in the hours and being comfortable with a certain degree of sacrifice in order to get the results."
It's a work ethic and approach that he says was influenced early in his life by his grandparents, who were survivors of The Holocaust, and by the many other survivors of their generation who had no choice but to work in order to build a life for themselves. Their stories, and the way many succeeded in the aftermath of the war, engrained in him a sense of duty and obligation, one that drives him forward every day.
"I have always been incredibly inspired by my grandparents and all of the other Holocaust survivors," he says. "Many of them came to Canada as refugees with absolutely nothing and through nothing else but hard work and determination managed to build their lives and businesses here. My grandparents always reminded me to make the most of my time here and to always remember how lucky I am to be Canadian and living in this great country. I do my best to honour them by working as hard as I can and to continue contributing to the amazing city of Toronto."
A strong Urban Retail Team
Hard work and a dedicated focus. It's a simple recipe, and one that has served the proficient commercial leasing leader well through the years. However, he points to the team around him as the most critical component lending toward his remarkable achievements. Consisting of seven members, including five brokers and two marketing professionals, along with the support of stellar administration and financial analysts, Markowitz and CBRE's Urban Retail Team have long carved out a dominant market position in Toronto, delivering maximum value to the clients they work with.
"What I've been able to achieve throughout my career to this point could never have been done on my own," he says. "I have the privilege of working with my phenomenal partners that I have on the team today – Alex Edmison, Jackson Turner and Teddy Taggart. We all approach every day and each deal that we execute for our clients with the same dedication and commitment toward delivering results. Combining our expertise and experience with our desire to dominate the urban commercial leasing market, we're responsible for somewhere in excess of 75 percent of the retail listings in Toronto and about 90 to 95 percent of the listings in the Bloor-Yorkville neighbourhood."
What's to come?
Corner of Cumberland St & Avenue in Yorkville – Photo by Dustin Fuhs
It's easy when speaking with Markowitz to notice the enthusiasm with which he speaks of his profession and the impact that he and his team have on Toronto's commercial leasing scene. In fact, it's almost infectious when listening to him speak of the deals he's brokered, those he's currently working on and the opportunities that are soon going to be available for retailers and landlords alike as a post-pandemic world steadily approaches which, to Markowitz, translates simply into a boom-in-waiting for the retail industry.
"It's been a really wild ride for retail in general over the course of the past 16 months," he says. "But, throughout the challenges faced by the sector, pharmacy, grocery, banking, cannabis, fast food and small coffee shops have all been fine. In fact, for those types of products, rent hasn't even really gone down. And there have also been brands like Peloton, which we just helped to place a flagship on Robson Street in Vancouver and to extend their lease on Bloor in Toronto where we placed them a couple years ago, that have managed to evolve and perform even better as a result of the pandemic. The hardest hit segment of the retail leasing market is fashion. Streets like Bloor Street and malls like Yorkdale have faced challenges. But, having said that, we've noticed an uptick in the last 30 to 60 days, with a lot of calls coming in from U.S. retailers and my partners in New York and London. They're all letting me know that as soon as they can book a flight and visit without having to quarantine, they're coming and want to look at spaces on Bloor Street West."
And, it seems, Markowitz is just as excited for travel restrictions to lift, expressing anticipation and excitement to return to his regular routine of bi-monthly visits to New York City where he canvasses retailers, promoting the attractiveness of Toronto and the Canadian market. As an active member of the International Council of Shopping Centers, he's also in attendance each year at the association's big Las Vegas and Whistler conventions, in addition to making his annual trip to the south of France for MAPIC – the international retail property market event – where he takes the opportunity to meet directly with the world's top luxury brands and present the value of Bloor Street.
"Those trips, when I have the chance to visit Paris, New York and London, and meet with our great network of CBRE brokers, are immensely valuable," he says. "It's what we've been missing over the course of the past 16 months, and I can't wait to get back to our travels and start meeting with brands again. It's going to be a good next 6 to 18 months for retail. We're looking forward to getting back to full swing with respect to tours and in-person meetings."
Increased rental prices?
He goes on to explain that as a result of the mini retail renaissance that he expects to take place in the months ahead, the rental prices that have gone down during the pandemic will rise again "shockingly" fast, citing revenge shopping as a very real phenomenon that will help retailers across the country start to make up for at least some of the shortfall that the industry has collectively experienced of late, driving lease prices up. He says that it's a trend in consumer behaviour that won't take long to develop, referencing the recent performance of some retailers in the United States as an example of what's to come for retailers in Canada.
"The retail markets, including restaurants, movie theatres, sporting events, indoor shopping and outdoor shopping is all going to explode as soon as restrictions lift across the country," he predicts. "I was speaking to a retailer in New York last week who told me that their sales during the first week that they were able to open in Manhattan beat the sales of the week before Christmas in both 2018 and 2019. I anticipate retail sales to be incredibly strong over the coming months. And, as a result, a definite shift will happen in the market back toward the landlord's side. If you're a retail tenant looking to be opportunistic and get a really great deal on Fifth Avenue, Maddison, Bloor or Rodeo, the time has come and gone. Rent will remain down for a brief period of time. But retailers are going to need to pay to play in the hottest urban spots again pretty soon."
Excitement in store
With respect to some of the developments and deals currently happening in the city, he says that there's "a lot going on" and that people living in and visiting Toronto can "expect some cool and exciting things to happen around retail in the city".
"There are rumours that Lululemon is looking for a new flagship location in Toronto," he shares. "Their current store on Cumberland is very small and their lease is coming up soon. So, I think everyone can expect them to do something new and exciting. Apple is, of course, coming to the corner of Yonge and Bloor and is a project that's coming along beautifully. It'll be a huge boost for the Bloor Street scene, generating traffic to the area. Nike is in the market looking for an experiential flagship store of at least 20,000 square-feet in the Bloor-Yorkville neighbourhood, which is another project that should be really exciting. These are just a few examples of the great things that are happening at the moment, and there's so much more to come."
Massive mixed-use projects
Markowitz speaks glowingly of the city's leasing prospects and opportunities. But he reserves most of his zeal, ardour and intensity for discussions about the endeavours that he and his team at CBRE are working on. One of which is a project called 'The Well' at the corner of Spadina and Front – a mammoth development comprising over three million square feet of retail, office and residential space. Markowitz and his team are handling the retail leasing for the project. And it's a responsibility that the leading broker says gets him up in the morning.