UK-Based JD Group Expanding into Canada with 'Size?' Sneaker Retail Store Banner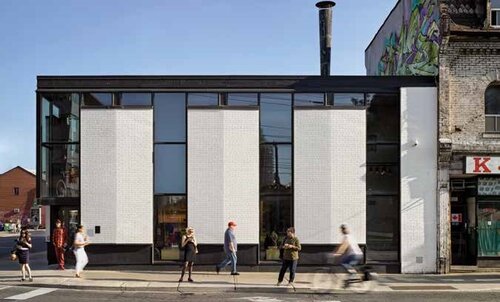 By Craig Patterson
UK-based JD Group is expanding its 'Size?' sneaker and apparel-focused retail banner into Canada this year with plans for several locations in major markets. The first storefront will open this summer in Toronto and plans are already in place for Vancouver and possibly other cities.
Canada's first location for Size? will be in a former bank building at 1000 Queen Street West and Ossington Avenue, representing the first location for the brand outside of the European market. Size? is known to do collaborations and release limited-edition product 'drops' which means that one may expect to see lineups periodically, something Toronto has become known for.
Size? was founded in 2000 and is known for stocking limited-edition sneakers, fashions, and accessories that are primarily classified as 'streetwear', with some product launches classed as global exclusives. The retail concept was initially launched by JD Group to trial edgier product collections before introducing them to the mass market through the JD fascia. Size? currently has stores in the UK, Ireland, Belgium, Denmark, France, Germany, Italy, the Netherlands, and Spain.
Window of 1000 Queen Street West building with Size? Photo: Hullmark Instagram
Photo of Ossington Ave street sign at the corner of Ossington and Queen Street West where the new Size? store is located. Photo: Hullmark Instagram
Jordan Karp of brokerage Savills Canada represents the brand in Canada and he negotiated the Queen Street Size? lease deal on behalf of the retailer. Arlin Markowitz and the CBRE Toronto team acted on behalf of landlord Hullmark which owns 1000 Queen Street West as well as numerous other commercial buildings nearby on Queen Street as well as on Ossington Avenue.
The 1000 Queen building was most recently leased out to a co-working company which was there temporarily. Prior to that, upscale Detroit-based fashion brand Shinola occupied the space and before that, US-based Stussy operated its Canadian flagship store there. The building is located in an area considered to be one of the trendiest addresses in Toronto.
The building features a ground floor of 2,204 square feet as well as a mezzanine level of 324 square feet. A lower level space spans 2,221 square feet.
Size? will continue its Canadian store expansion in 2021 with a Vancouver storefront in a location that has yet to be announced. Size? is generally seeking street-front retail spaces in the 3,000 to 4,000 square foot range where at least 2,000 square feet of space can be dedicated to retail.
Click Here to Continue Reading